So you've written an awesome blog and you're ready to promote it. Where do you start? Although there are many strategies you can use to promote your blog, finding one that works best can be challenging, especially if you're new to blogging or have never promoted anything before. To help out, I've rounded up 8 proven strategies that will help boost your traffic and get your name out there as an authority in your niche.
1) Build a community

A great way to promote your blog is by building a community around it.
This can be done in a number of ways, such as creating a Facebook group, holding meetups, or even just engaging with other bloggers in your niche.
By building a community, you'll be able to get more eyes on your blog and boost your traffic.
Plus, it's a great way to connect with like-minded people who can help support your blog.
You can find other bloggers in your niche by searching Google or social media platforms like Facebook or Twitter.
After finding fellow bloggers, you can reach out to them by leaving comments on their blogs or sending them messages on social media.
You can also try joining online communities in your niches, such as forums, groups on Facebook, subreddits, or even Instagram accounts.
2) Create regular and consistent content

Consistency is key when it comes to promoting your blog.
You need to create content regularly if you want people to keep coming back for more. But that's not all! You also need to make sure that your content is high quality and engaging.
Create a schedule – This is really important when it comes to promoting your content, but I've found that a lot of people don't actually have one.
Having a schedule means you will be able to predict how many posts you'll be able to create per week or month, which allows you time for promotion in advance.
Schedule some time after each post for promotion so that everything is done on time, every single time. Plus, by scheduling your posts in advance, it helps you plan ahead better, which can really help with getting more traffic from search engines.
What Kind of Content Should You Be Creating? Here are some different strategies you can use
3) Connect with influencers in your industry

By connecting with influencers in your industry, you can tap into their audience and get your name in front of more potential readers.
But how do you find the right influencers to connect with? Look for popular bloggers who write about topics related to your blog.
Once you've found a few, reach out and introduce yourself. Many will be happy to help promote your blog if they think it's a good fit for their audience.
If you aren't sure how to find influencers in your industry, there are a number of tools that can help. BuzzSumo is an excellent starting point, as it lets you search for popular content on your topic.
You can then see who has shared that content and dig deeper into those profiles by checking out their other shares or posts.
Another great tool is Followerwonk, which allows you to perform detailed searches on Twitter bios by location, language and keywords related to interests, industries, and more.
Don't forget that social media also provides plenty of opportunities for connecting with influencers; just make sure you do so in a way that feels genuine rather than forced.
4) Guest blog on authority sites

One of the best ways to get your blog in front of new readers is to guest blog on authority sites in your industry.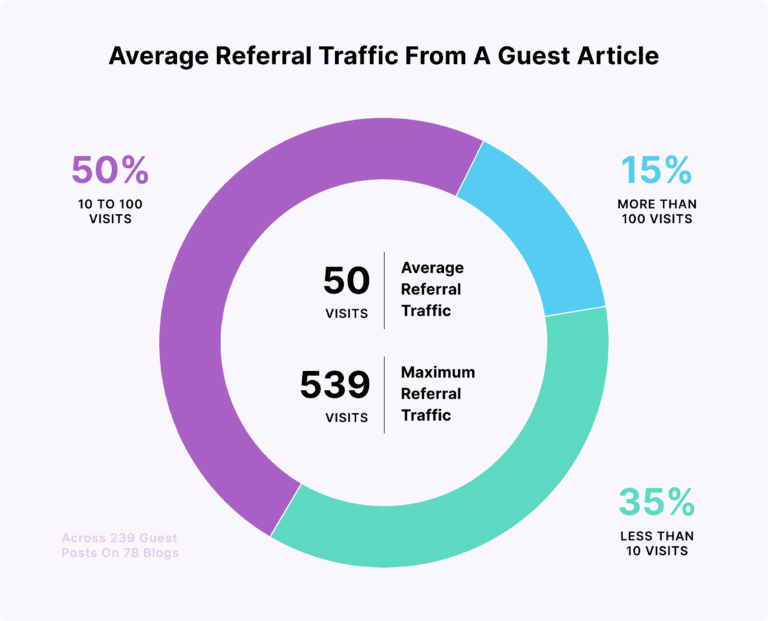 This not only helps you get your name and your work out there, but it also helps build links back to your site, which can boost your search engine ranking.
When you guest blog, be sure to include a bio with a link back to your site so readers can learn more about you and what you have to offer.
As you look for sites to guest post on, don't just consider their authority and audience size. Consider whether their readers are likely to be interested in your content as well. One great way to do that is by using something like BuzzSumo.
To use BuzzSumo, enter a topic into its search bar.
This could be a term related to your niche or another aspect of your industry.
It will pull up all kinds of articles, many of which you've probably never heard of before.
Next, look at who wrote those articles and see if they have a contact page with email addresses or social media accounts associated with them.
If so, reach out through those channels to tell them about your guest post idea.
If not, leave a comment on one of their recent posts asking for an opportunity to write for them—make sure you add some value to what they're already doing so they can see how your content fits in well with their own readership's interests.
5) Create great social media posts
Social media is a powerful tool that can help promote your blog and boost your traffic.
But with so many different social media platforms out there, it can be tough to know where to start.
Here are eight proven strategies that will help you get the most out of social media and promote your blog like a pro
6) Send an email newsletter

If you want to give your blog a boost, email newsletters are a great way to do it.
Not only do they help promote your blog to a wider audience, but they also help build relationships with your readers.
Plus, if you have a great email list, you can use it to drive traffic back to your site when you need it.
In addition, email newsletters can be a great way to get backlinks from other websites.
By giving your readers an incentive for sharing, such as an Amazon gift card or discount code for their next purchase on your website, you'll generate even more promotions for your website.
If you're just starting out, we recommend trying MailChimp.
It's one of our favorite email providers because it's free for up to 2,000 subscribers, easy to use, and has an awesome design.
For more advanced users, we recommend Aweber.
If you've been around for a while or want access to other marketing tools, it may be worth checking out Constant Contact as well.
7) Send out press releases

A press release is a great way to let people know about your blog.
You can send them to online and offline publications, as well as post them on your own website. Be sure to include a link to your blog in the press release so that people can find it easily.
Also, make sure to write a catchy headline that will grab attention.
A press release is an official announcement that contains information about your business or a product. They're sent out by public relations professionals, but you can create one on your own as well.
Press releases are widely used for major announcements such as new products, mergers, acquisitions and executive appointments.
They're also a great way to announce new blogs you've started publishing.
To create a press release on your own, simply write up a brief paragraph with all of the relevant information—who you are, what your business is, why it's newsworthy—and include it in an email along with supporting documents like images or videos.
Then send it off to relevant publications in hopes of getting picked up by some media outlets!
8) Get featured in media outlets

Getting featured in popular media outlets is a great way to promote your blog and boost your traffic.
But how do you get started? First, identify the type of media outlet you want to be featured in.
Then, create a list of the specific reporters or editors you want to pitch your story to. Next, reach out and make contact.
Finally, follow up and continue the relationship.
Create a list of media outlets that cover your industry:
There are a number of ways you can go about finding media outlets that might be interested in your story. One strategy is to search for related keywords in your areas, such as small business or entrepreneurship. Another option is to use specific web crawlers, such as Google News or Yahoo! News.
You can also sign up for press release distribution services like Business Wire and PR Newswire which make it easy to send out news updates on any subject at little cost.
Finally, if you have limited time but plenty of funding available, you could hire a PR firm that specializes in pitching stories in targeted outlets.